Tuesday, November 1st, 2011
After sleeping on the "big girl bed" in Florida turned out such a success, we decided to start our search for a "big girl bed" for Madeline. We also needed to prepare for our new arrival and wanted to re-use the crib for him. It seemed like a good time to transition Madeline so there would not be so much change at once.
Trying to find a twin-sized bed that we both liked turned into a difficult prospect. Madeline, naturally, loved the Cinderella carriage shaped one that was silver and glittery. We decided to do a smaller step into a "bigger girl bed" to give us time to find a twin we liked.
So, Madeline's room got a small make-over. More work still needs to be done, but she messes with everything and so we gradually have to remove new dangers that she creates.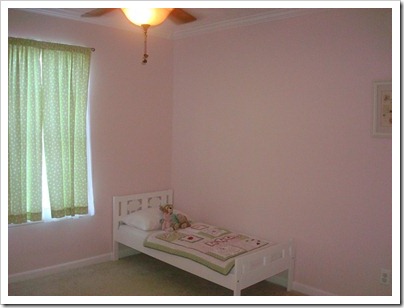 "Ark in the Park" at Church
Pumpkin Hunting at the Pumpkin Patch
Down the Tennessee on the Southern Belle
Fall Festival at the Park
Pumpkin Carving
First Time Trick-or-Treating
Year Four
October 2011