Saturday, October 1st, 2011
Earlier this month it was confirmed that Madeline was going to be a big sister to a baby boy! When we first told her, she kept saying that she is getting a "baby brother sister." No doubt this came from telling her that she was getting a baby brother or sister.
We also talked Jennifer's dad into taking a magical trip to Disney World with us. We rented a house with lani and private pool, borrowed a scooter for dad from Andre's parents and planned to join them at Disney as well. Big family trip turned out to be very fun for all and Madeline got to spend lots of quality time with her grandparents.
Madeline really enjoyed meeting her favorite Disney characters. She also got to ride the teacups and Dumbo!
On Our Way
Excited to be in the Pool
Waiting for the Parade
It's Spooky
He Told Her that Fireworks are Stars
Teacups
Ready to Drive
Trick or Treat
A Dream is a Wish the Heart Makes…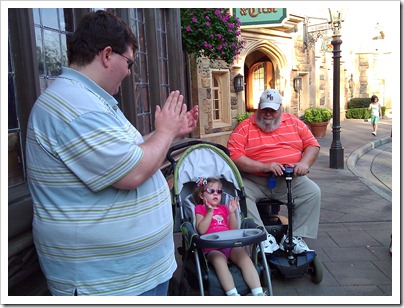 Clapping With the Music
Sweet Moment
It Stinks to Feel Bad on Vacation
Dancing with Daddy
Sleeping in Big Girl Bed
She Loved the Fan in the Doorway
And Back Home…
Videos
Year Four
September 2011