Wednesday, October 29th, 2008
Over the weekend, we noticed we had a broken tree trunk in our front yard. What basically happened is a tree had broken at the base and had fallen over into the other trees. So, we called in the experts to get a quote on removing the tree and maybe its other tree friends. It became apparent that it was best to remove all of the tree, as many seemed to be diseased and overgrown and could potentially case us problems in the future.
If anyone needs any trees removed we highly recommend them. They were extremely efficient, hard working, nice and completely cleaned up before they left. Oh and they were the best price too! They removed about 16 trees of various sizes, did stump grinding and cleaned up in approximately six hours.
Madeline usually sleeps in until about 9:30 on weekdays, but today she was disturbed by the tree people.  She took in some of the action, but she mainly slept through the whole thing in her kangaroo pouch.
Before Picture – Taken in May 07
Before Most of the Work Started
Two Climbers
Throwing Ropes
King of the Tree
Madeline's First Nap
Andre' Enjoying the Action
Just Some of the Equipment
The Big Tree is Down
Grinding Stumps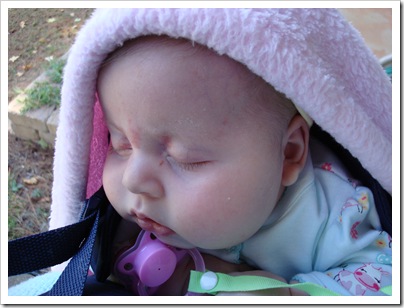 It's Nap #2 For Madeline
Loading Up the Big Trunks
After!